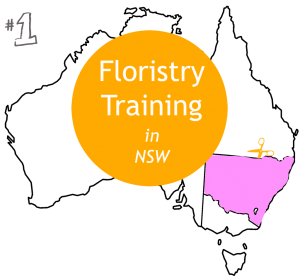 Sometimes it is hard to find floristry training, they often get stashed under different categories like Horticulture, Primary industries or Arts. If you're thinking about becoming a Florist, looking at enhancing your floristry skills or just looking for additional floristry training around NSW, then we have all the information that you will need.
Unfortunately, Floristry courses come and go for a variety of reasons, but we will edit this list as courses appear and disappear. You should always contact your nearest training provider to register your interest.
Below we have compiled all the relevant information on Floristry related Nationally Recognised Training, Workshops and Short Courses.
Quickly find a Floristry training near you with our super handy interactive map.
(If you are looking for Floristry training around Victoria click here)
Floristry apprenticeship? If you want more information, then you need to check out our Floristry Apprenticeship Guide which has plenty of useful advice to help you out.
---
Nationally Recognised Training
Nationally Recognised Training is heavily regulated throughout Austraila to ensure quality and consistency of training courses. Floristry Training that is Nationally recognised means that the course will be accepted and acknowledged by the floristry industry and governing bodies nationwide.
Local Australian Students may be eligible for Government subsidies and VET loans for some course fees. Registered Training Organisations will have all the required information about their fees, and they can help you find out if you're eligible for government subsidies.
TAFE NSW Smart & Skilled has a course fee estimator, click here to open a new tab and see if you're eligible and the estimated course fee.
Concession card holders might be entitled to a discounted price. Check out www.humanservices.gov.au to see if you qualify for a concession card.
Floristry Workshops and Short Courses:
Floristry Short Courses and Workshops are an excellent way for beginners and florists of all experience levels to learn and improve skills.
Short courses can help you move into a specialised floristry branch like Weddings, and they can also provide you with the latest techniques and tools of the trade.
Every Floristry School has different delivery methods, durations, inclusions, etc. Floristry courses and workshops may change their structure regularly so just use the prices as a guide only. Click on the school's website links at the bottom of each section to contact them for updated information.
Other helpful training ideas:
Don't forget the endless free online Tutorials from basic to advanced, a simple search for "free floristry videos" will give some great results. We love Astar's Place, a massive collection (over 60 videos) of quality, fun and in-depth tutorials with a classic Kiwi Accent 🙂
Want to learn how to DIY wedding flowers, then you should check out our Definitive DIY Wedding Flowers Guide
Use the Map below to find Floristry courses near you:
Disclaimer:
At the time of publishing, the courses listed above were available, however, due to demand some classes may be removed, or additional courses added. Please contact your nearest training provider (check map above) for up to date course information.
The course fees listed above are estimated only for a quick reference. Prices were taken from the relevant website at the time of publishing. Prices may have changed since, please check with the Training provider for latest fees and other costs.