When it comes time to celebrate your wedding anniversary, you want to do more than buy your partner some flowers and chocolates. While your spouse will appreciate any gesture, now is the time to pick a celebration that matches the love you have for them.
Whether you're looking for an active public celebration or a cozy night at home, there are lots of ways you can make this anniversary one you'll remember. Check out this guide for 8 great ways to celebrate your wedding anniversary.
Experience Your Dream Location Without Traveling
Sick of travel restrictions? Can't afford a luxury vacation? No worry! Grab your spouse and head to the destination of your dreams…all from the comfort of your own home and city.
If you aren't sure where to travel, check out these three recommendations.
Rome
To get started, spend the evening cooking up some carbonara, or grab some cacio e pepe from a local Italian restaurant.
While you're enjoying dinner, explore some of Rome's greatest sights including The Colosseum and The Pantheon. A bonus of this virtual tour? You don't even need to put on your walking shoes.
Once your tour is over, tune into a virtual cooking class where Italian chef Cristina will teach you how to make tiramisu. How sweet is that?
China
Order some mapo tofu or noodles and spend some time getting up close and personal with some of China's most popular residents, the giant pandas.
Once you're fueled, head out of the house to the Chinese Garden of Friendship in Sydney. Stroll through the grounds and make sure to check out the koi ponds and pavillions. To finish the day, head inside the onsight teahouse to grab a snack and drink.
South Africa
If you want to experience both wildlife and a bustling city, you can't do much better than South Africa.
To start the day, tune into a live safari through a South Africa game reserve. The sunrise trip runs from 1:30 PM AEST to 5:00 PM AEST, so it's the perfect afternoon activity.
Once you've spotted some gazelle and hyenas, it's time to head back home for dinner. Try cooking up the South African dish bobotie while taking an aerial tour of Cape Town.
Quite marvelous, isn't it?
Take a Dessert Tour of Your City
Who says you can't have more than one dessert? If you don't want to eat dinner out (or can't choose just one restaurant), sample desserts throughout your city. We recommend choosing a place in each of these categories.
Chocolates
What says romance more than a handmade truffle or caramel? The Sydney shop Kakawa Chocolates offers flavors including Darjeeling tea and lychee, and Ganache Chocolate in Melbourne offers elderblossom and passionfruit treats.
Ice Cream and Gelato
Whether your wedding anniversary falls on a hot or cold day, these cool treats will always make it better. Searching for a perfect scoop for you and your partner to share? Head to Pure Gelato in Sydney or Gelateria Primavera in Melbourne.
Cake
Fruity, nutty, or filled with caramel, there's a cake for everyone. If you're in Sydney, check out KOI Dessert Bar for delectable flavors like mango yuzu and passionberry cheesecake. And you can't beat Bibelot for fabulous Melbourne cakes.
Book a Room or Suite in Your Favorite Hotel
Even if you won't be leaving your home city, you can still book a night in a hotel. Enjoy the views and take advantage of services like spas and room service.
Shangri-La Sydney
For unbeatable views of the Sydney Opera House and Sydney Harbor, you can't beat the Shangri-La. Make sure to utilize the services at CHI, the spa.
Park Hyatt Sydney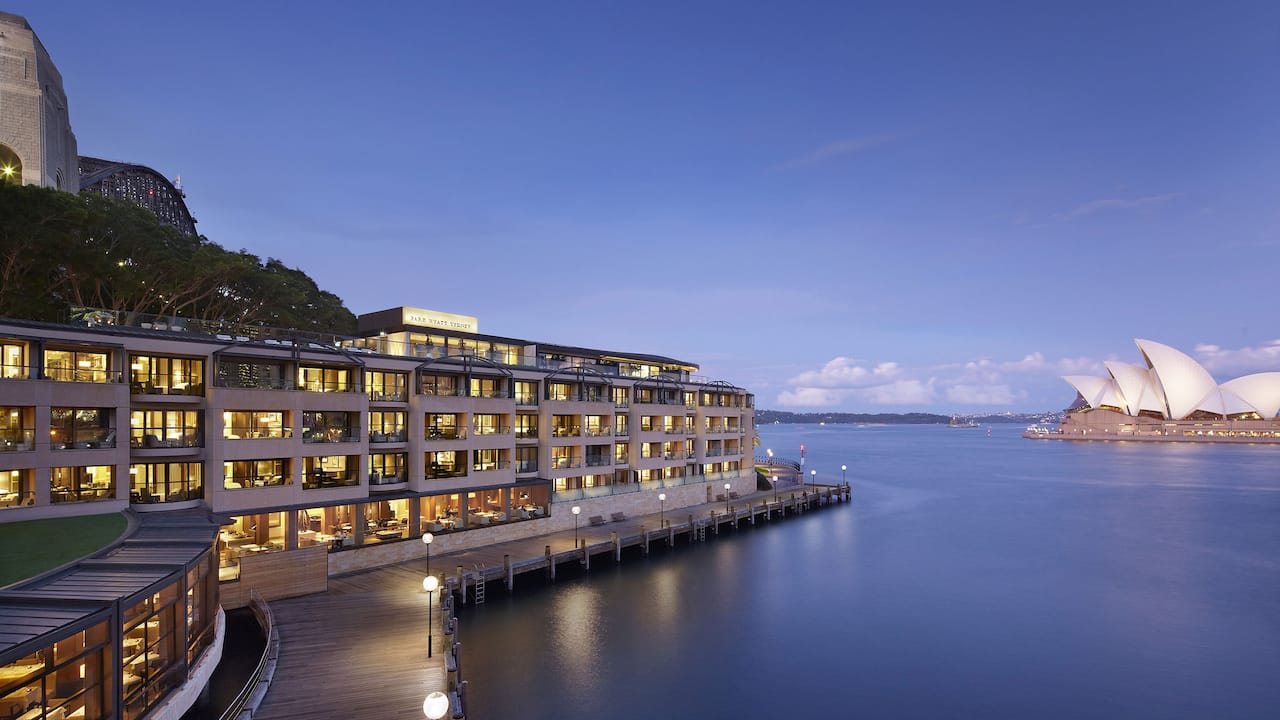 With a heated rooftop pool and plenty of spa services, the Park Hyatt makes it easy to relax. If you wish to leave the hotel, the Rocks neighborhood offers plenty of quaint streets and shops to explore.
The Como Melbourne
This chic and elegant hotel sits in the fashionable South Yarra district of Melbourne. Sit back and enjoy your time together while hanging at the rooftop pool or sundeck.
Visit a Restaurant and Don't Skip Dessert
Even if you regularly eat out, you can make this meal special by choosing a romantic setting and ordering top-shelf drinks and multiple courses. Check out these spots for romantic date night.
Foglia di Fico
Located in Melbourne, Foglia di Fico offers hand-made pasta and other Italian fares. To make things simple yet surprising, select from the five-course or nine-course chef's choice option. Or pick your favorites from the menu, whether that's the mushroom arancini or duck gnocchi.
Not only is the food outstanding at this cozy little restaurant, but the friendly and attentive service staff help meet your every need.
As a bonus, the nearby Flagstaff Gardens is the perfect spot for an after-dinner stroll.
Aria
Aria's elegant glass dining room overlooks the Sydney Harbor, making it the perfect place to enjoy the dishes chef Joel Bickford cooks from locally sourced produce and meat.
Choose from a selection of seasonal dishes to craft your own exquisite three or four-course dinner. With three to five options for each course, you and your partner can order something different and share.
LuMi
Lumi, Italian for "little lights," lives up to its name with a modern dining room filled with twinkling lights. This elegant yet cozy area is the perfect place to spend a night enjoying a seasonal tasting menu.
Sit back, relax, and get ready to enjoy Italian-Japanese fusion as you enjoy the view of the waterfront.
Order Takeout and Head to a Romantic Location
Just because you don't want to sit down in a dining room doesn't mean you can't enjoy a great meal. Plus, you can enjoy your food wherever you choose.
Pack a blanket, watch the sunset, and see if you can catch a glimpse of a shooting star.
If you're in Sydney, grab some spring rolls and curry from Thai Pothong or a Mezza spread from Zahli and head to Milk Beach on Hermit Bay or the Royal Botanic Garden.
Melbourne also has lots to offer. Pick up Argentinean cuisine from Palermo or pasta from Tipo 00 and enjoy your meal at the St Kilda Pier or the Royal Botanic Gardens.
Recreate Your Wedding Day
Even if you want to stay at home, you can still celebrate your anniversary in a special way by reliving your wedding day. We're not talking about a vow renewal, but rather a day that will remind you of your love for each other.
You already have the most important element of your wedding day — your partner!
To help you get in the celebratory groove, play some tunes from your big day. And don't forget to take a special moment to grab your partner for your first dance song.
After working up an appetite, take a step back in time by enjoying a slice of your wedding cake. Even if you don't live nearby the bakery that made your original cake, you can still order the same flavor from a different bakery.
By the time the night ends, you'll be ecstatic that you can call your partner your husband or wife. And the good news is you only have to wait a year until you can create the day all over again.
Head to Outer Space
While a true trip to space may be out of the question, you can still create a day that's out of this world.
To begin, grab your partner's hand and head aboard a space shuttle heading to Mars. This might not be quite as exciting as flying in the space shuttle, but it's still something fun you can share with your partner.
After you're a little more comfortable with life on another planet, it's time to see if your body can handle time spent off Earth. Head into the air on a zero-gravity flight or experience the illusion of life in orbit at a space lab.
Dream of the Future
The best thing about wedding anniversaries is they remind you that you get to spend the rest of your life with your partner. They're the person you laugh with, cry with, and dream with.
Your anniversary is the perfect time to talk about your individual and shared dreams and goals. Whether you wish to pick up a new hobby, move, or just enjoy each other's company, sharing your dreams with your partner will help your communication and give the two of you something to aim for.
After you've talked about your goals for the next year, write them down on a piece of paper. Place this list in a special place where you can check in on it in a year.
Make This Anniversary One to Remember
Just because your wedding anniversary happens every year, it doesn't mean you shouldn't make it special! Whether you'd like to head out in public or celebrate in your own home, you now have the information necessary to make this anniversary one to remember.