More and more people feel that their daily schedule is so busy that there aren't enough hours in a day. A busy lifestyle is often a huge issue for couples, especially if they lead separate lives from 9 a.m. to 6 p.m., deal with their household duties, and are so tired in the evening that they fall asleep as soon as their heads hit the pillow. Does this sound familiar? If your everyday life consists of chores, errands, and work, then you surely need to take a break.
Organizing a romantic getaway is a great way to treat yourself and your better half and to leave the noise of the city behind. And the good news is that we're here to help! We did some research and found the most beautiful secluded escapes of NSW. Whether you're looking for an exotic beach house, a cosy cottage, or a gorgeous villa where you and your SO can reconnect and recharge your batteries, we've got you covered!
Here are the top 25 romantic getaways in NSW:
Location: Kurrajong
Accommodation Type: Country-side Bed and Breakfast
Conveniently located just 1.5 hours away from Sydney, staying at this adults-only elegant bed and breakfast is, according to hundreds of happy customers, a 'wonderful experience'. This 14 acres property offers a wide range of services including a bubbling hot spa, where you and your loved one can unwind, drink a glass of champagne, and watch the sunset.
If you want to enjoy mountain views, countryside strolls, picking blueberries, and spending time in nature, this is the perfect place. What better way to forget about the humdrum of city life than feeding sheep and alpacas, enjoying a BBQ, or cuddling by the fireplace?
Blueberry Hills on Comleroy will spoil you with beautiful surroundings, a cosy atmosphere, and delicious food, as they love sharing their fresh produce with the guests.
Location: Luskintyre
Accommodation Type: Vineyard Bed and Breakfast
Tranquil Vale Vineyard is a 25-acre working vineyard, located on a peaceful bend of the Hunter River, in Luskintyre. If you're a wine lover on the lookout for the perfect romantic getaway, this is a perfect choice. At Tranquil Vale Vineyard you'll get to enjoy authentic award-winning wines produced from estate-grown Chardonnay, Semillon, and Shiraz.
Accommodation-wise, the estate offers romantic vineyard stays in a two-bedroom cottage or in a couple's loft that has a breathtaking balcony view. If you're wondering about the services and facilities offered here, here's a short list: salt-water swimming pool, tennis court, gym, BBQ area, and a children's playground (in case your babysitter cancels and your romantic getaway becomes a family vacation).
Location: Grafton
Accommodation Type: Rural Bed and Breakfast
Overlooking the Clarence River, this conveniently-located B&B is perfect for a romantic getaway. It is important to mention that this property is adult-only, so make sure you have a backup babysitter.
The cosy timber-themed rooms are equipped with ensuite bathrooms with a 2-person bathtub, a private balcony with a great view, and, of course, a very comfortable queen bed. If you're a nature lover, you will love this place that's home to koalas, echidnas, wallabies, and many different species of birds. You'll also have access to the Clarence River thanks to the private boat-ramp and wharf facilities so you can bring your own boat, or rent a kayak.
The friendly hosts of Clarence River B&B didn't forget about those of us who are the sit back and relax-type of travellers. So you'll also be able to enjoy a sauna, a swimming pool, a BBQ deck, a pizza oven, and plenty of comfortable hammocks.
Location: Pokolbin
Accommodation Type: Boutique Resort with Spa and Wellness Center
Located in Pokolbin, 30 minutes away from Cardiff, and 35 minutes away from Newcastle Airport, this accessible retreat is another great option if you're looking for a romantic getaway in NSW. With 10 spacious and luxurious rooms with ensuite bathrooms and patios overlooking the Shiraz vineyards, this boutique resort has hundreds of positive reviews.
If you visit Nu Leaf Retreat in winter, you'll get to enjoy a log-burning fire in the communal lounge area, which is extremely romantic and cosy. But that doesn't mean you shouldn't go here during the summer. The resort also has a relaxation deck with sun lounges and umbrellas, where you can enjoy a few cocktails by the pool. Additionally, guests have access to an indoor heated mineral pool, steam room, gym, and jet spa.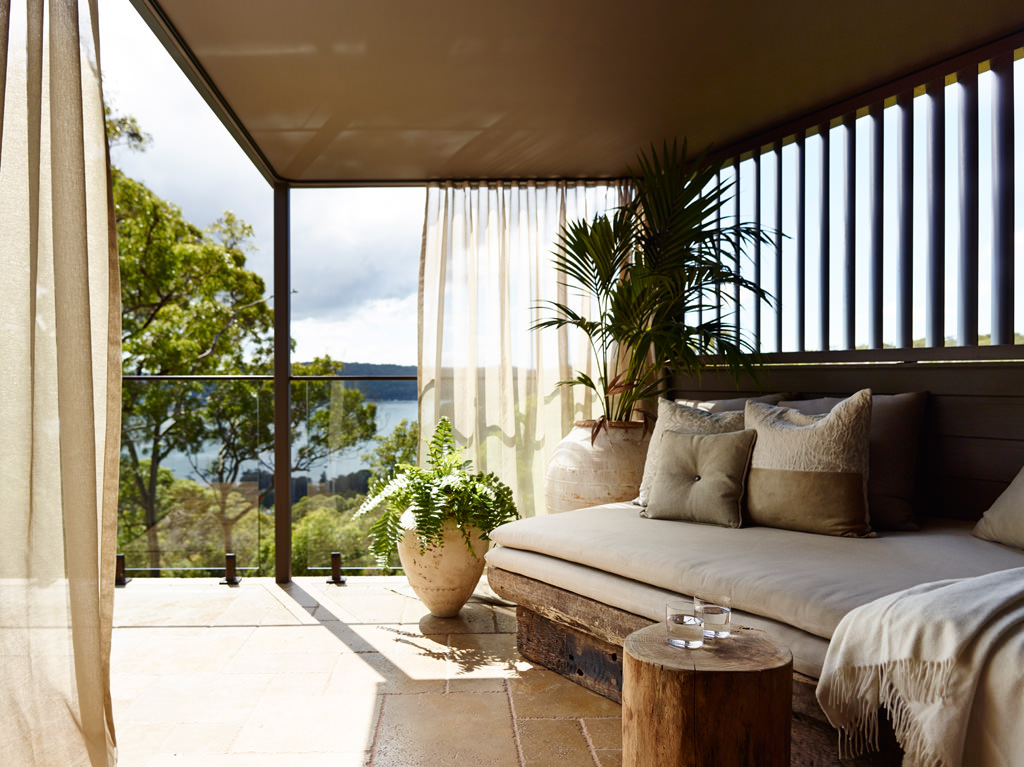 Location: Bouddi Peninsula
Accommodation Type: Luxury Lodge
Situated 1.5 hours away from Sydney, on the breathtaking NSW Bouddi Peninsula, Pretty Beach House is considered Australia's most exclusive and luxurious romantic destination. Nestled into the spectacular Bouddi National Park, the lodge boasts 4 lavish pavilions where you'll get to enjoy the amazing views, plenty of privacy, and unrivalled services.
If you want to spend a few lovely days with your partner and relax in an intimate setting, this is exactly what you're looking for. Pretty Beach house is an ideal retreat for nature lovers who want to forget about the noise and stress of city life. There are so many activities that you can enjoy here, from cultural tours and guided hikes through the National park, swimming, surfing, horse-riding, paddle-boarding, and mountain biking, to exploring pristine beaches and bays and enjoying the vibe of the beautiful seaside villages located nearby. Intimate, romantic, luxurious, breathtaking!
Location: Murwillumbah
Accommodation Type: Rainforest Bungalows
How does waking up in the forest, in a cosy cabin designed for romance? To us, it sounds perfect! Crystal Creek Rainforest Retreat is situated in a beautiful setting and it is, according to their website, the ultimate getaway. Floor to ceiling windows, double spa baths, private decks or balconies, fully-equipped kitchens are the main features that you'll get to enjoy while staying here.
If you're de adventurous type and you decide to stay in one of their lodges and bungalows, you'll get to explore the rainforest, immerse yourself in beauty, take photos of 400-year-old trees and glow worms. If you'd rather kick back, relax, and get lost in your loved one's eyes, you can lie in a hammock and enjoy the sounds of the rainforest or organize a picnic in a citrus orchard. You can spend your honeymoon, your anniversary, or a romantic birthday here and the hosts will make sure you'll have a wonderful time.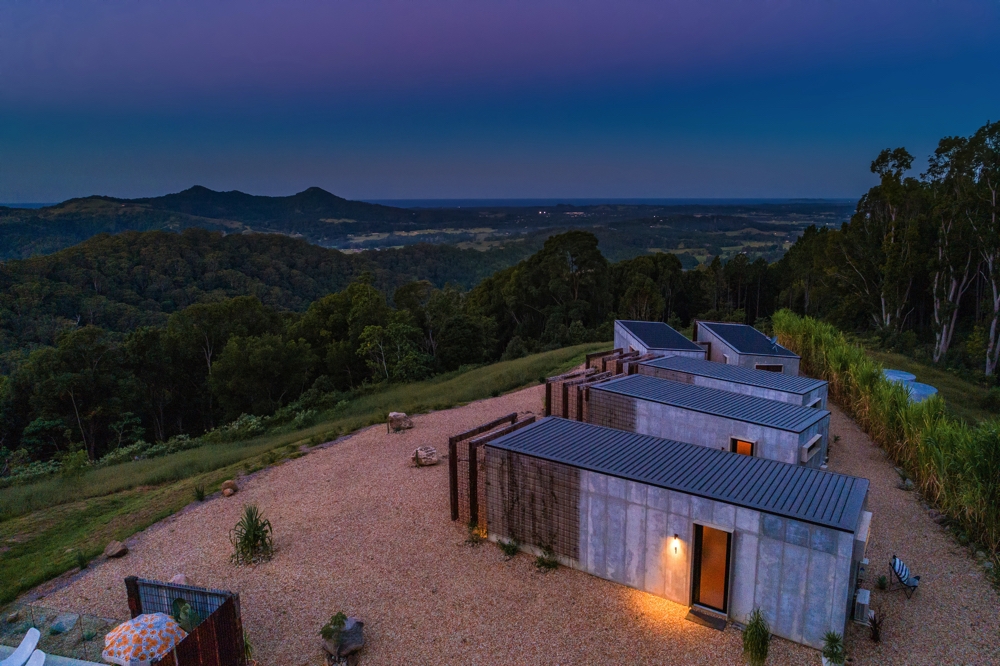 Location: Mullumbimby Creek
Accommodation Type: Boutique Bed and Breakfast
If you want to escape the ordinary and enjoy a romantic weekend in the Byron hinterland, this is the perfect place. This luxurious bed and breakfast offers accommodation in three intimate and detached living pavilions and is, according to their website, a 'home away from home' for people who want to reconnect with nature.
Surrounded by acres of lush rainforest, Blackbird Byron B&B is a place where you can forget about the humdrum of city life and indulge in a wide range of relaxing activities such as admiring the waterfalls and the wildlife, walking, and exploring the region. If you're thirsty for adventure, you can go kayaking or mountain biking. Regardless of how you choose to spend your day, you must end it by the pool with a nice glass of bubbly.
Location: East Gresford
Accommodation Type: Luxury Eco African Safari Tent
Who said you need to travel all the way to Africa to enjoy an exciting safari experience? Thanks to Daniel and Jane Maroulis, the lovely owners and hosts of Boydell's Safari, you have the opportunity to spend the weekend in a luxurious and eco-friendly tent. Surrounded by nature and situated right in the heart of the Aussie bush, Boydells's estate is the perfect romantic getaway for nature lovers and wine lovers. Foodies won't feel left out either, as the Maroulis family focuses on providing delicious meals made of locally-sourced products.
So, pack your bags, find a cat sitter, and visit the Boydells's Safari. You'll have a wonderful time in the opulent tents; you'll eat delicious food, drink good wines, and reconnect with your loved one. If you're still not convinced, picnic lunch hampers, a private chef, and in-house massages are a few other services offered here.
Location: Broke
Accommodation Type: Boutique Working Vineyard
Located in the Hunter Valley, more specifically in the quiet and peaceful Broke Fordwich region, Tinonee Vineyard Estate is a great romantic destination just two hours' drive north of Sydney. This elegant property offers picturesque views and a unique experience for wine lovers. If you and your loved one love visiting private working vineyards, you must spend at least one weekend at Tinonee Vineyard Estate. You'll get to take long, romantic walks amongst the vines, sip a glass of delicious Verdelho wine in front of the roaring fire, and immerse yourself in the tranquil and cosy surroundings.
Accommodation-wise, there are three stunning guest houses available at Tinonee Vineyard Estate: 'The Residence', 'The Cottage', and 'The Estate'. All three are charming, so choosing might be a bit difficult. According to the Vineyard's website, The Residence and The Estate are ideal for larger groups, so, if you want to spend a romantic weekend with your partner, we recommend The Cottage.
Location: Wolgan Valley
Accommodation Type: 5-star Conservation-based Resort
Situated in the Greater Blue Mountains World Heritage Area and occupying a tiny percentage of the 2,000-hectare nature reserve, the 5-star conservation-based resort One&Only makes a perfect romantic getaway. This luxurious resort offers couples comfortable and secluded accommodation in a stylish one-bedroom villa. The floor-to-ceiling windows will allow you to admire the natural splendour of the surrounding area while enjoying a romantic weekend with your SO.
At One&Only Resorts you'll enjoy outdoor dining, delicious food, beautiful views, spa treatments for couples, romantic horse and bike rides, nocturnal wildlife spotting expeditions, bush bonfires, and pretty much anything you can think of.
Location: Mudgee
Accommodation Type: Luxury Glamping
The first thing that you need to know about Sierra Escape is that it is an adults-only luxury eco glamping getaway where you'll surely forget about the busy and noisy city life. This award-winning resort is within a 20 minutes' drive from Mudgee and it is truly breathtaking.
Once you step out of your car, you'll immediately notice the beautiful views. Spending the night in one of the lavish tents of Sierra Escape is a unique experience. If the idea of 'camping' isn't something that appeals to you, keep in mind that Sierra Escape offers is all about 'glamping', which is a completely different thing. The tents are beautifully decorated and well-insulated so you'll get to enjoy nature while spending the night in a cosy tent that's designed for comfort and luxury.
Location: Gerringong
Accommodation Type: Countryside Luxury Home
The Range is located only a 90-minutes drive from Sydney and it is absolutely stunning. With its striking architecture and Scandinavian interior, this luxurious home will make you feel at home. During your stay here, you and your partner will get to enjoy the panoramic views, an infinity pool, or, if you're the adventurous type, you'll get to explore the 150 acres of picturesque landscape and its hidden rock pools and pastures.
Not yet convinced? The hosts offer a selection of organic produce for breakfast that you can enjoy in front of a suspended wood-burning fireplace or outdoors, where you can enjoy the scenery. The Range is a perfect romantic getaway, but you can also book The Headland, which is more spacious and can accommodate up to 8 guests.
Location: Shoalhaven Heads
Accommodation Type: Luxury Villas
If you were planning to spend a few days on the coast of Shoalhaven with your partner, admire the picturesque scenery, reconnect and relax, you need to check out Bangalay Luxury Villas. Surrounded by pristine beaches and canopies of palms and blackbutt trees, these 16 self-contained modern villas are a dream come true.
Private and romantic, situated near Kangaroo Valley, Berry, Kiama, and Gerroa, this 5-star resort caters to many different occasions from romantic getaways, weddings, and birthdays, to corporate events. There are many different activities that you can enjoy here including romantic picnics, surfing, golfing, kayaking, rock climbing, wine tasting, and more.
Location: Bowen Mountain
Accommodation Type: Eco-friendly Luxury Retreat
Spicers Sangoma Retreat is a great destination if you're looking for a romantic and luxurious resort near Sydney. A trip to the Blue Mountains is always welcome, especially if you're feeling overwhelmed by the humdrum of city life. And what better way to find relaxation than spending a weekend with your partner at this eco-friendly resort?
This all-inclusive retreat is eco-certified and it has a unique character while also wrapping its guests in luxury and comfort. During your stay at Spicers Sangoma Retreat, you'll get to enjoy a gourmet five-course dinner that will incorporate all the flavours of the area. And if you're still not relaxed, you can go to Spa Anise where you'll be pampered with restorative massages and therapeutic rituals.
Location: Hawkesbury
Accommodation Type: River Cottage
If you're looking for a romantic getaway that's packed with charm and tranquillity, La Riveraine is a great option. This retro 1950s river cottage is truly unique and beautiful. Located in Hawkesbury, near Sydney, La Riveraine can only be accessed by boat, so it is truly private and intimate.
With a crystal clear pool, a private jetty, stunning views of the river, a pontoon, and plenty of terraces, you'll surely forget about chores, shopping lists, and work. Although it might sound like this romantic getaway is great for the summer holidays, we have good news! It's perfect for winter as well. During the colder months, La Riveraine becomes the ultimate cosy retreat.
Location: Bowral
Accommodation Type: Scandinavian Cabin
There's nothing better than waking up with your significant other in a beautiful Scandinavian cabin, opening the windows, and listening to the glorious sounds of nature. This luxurious cabin is the perfect hideout for couples who need a few days of intimacy, away from the city. The Scandinavian minimalism and the charm of country living make the Hideout a perfect romantic getaway.
And that's not all if you want to stay active and roasting marshmallows and stargazing isn't exciting enough, you can always cook your own gourmet meals in the fully-equipped kitchenette or immerse yourself in the farm lifestyle by booking a horse ride.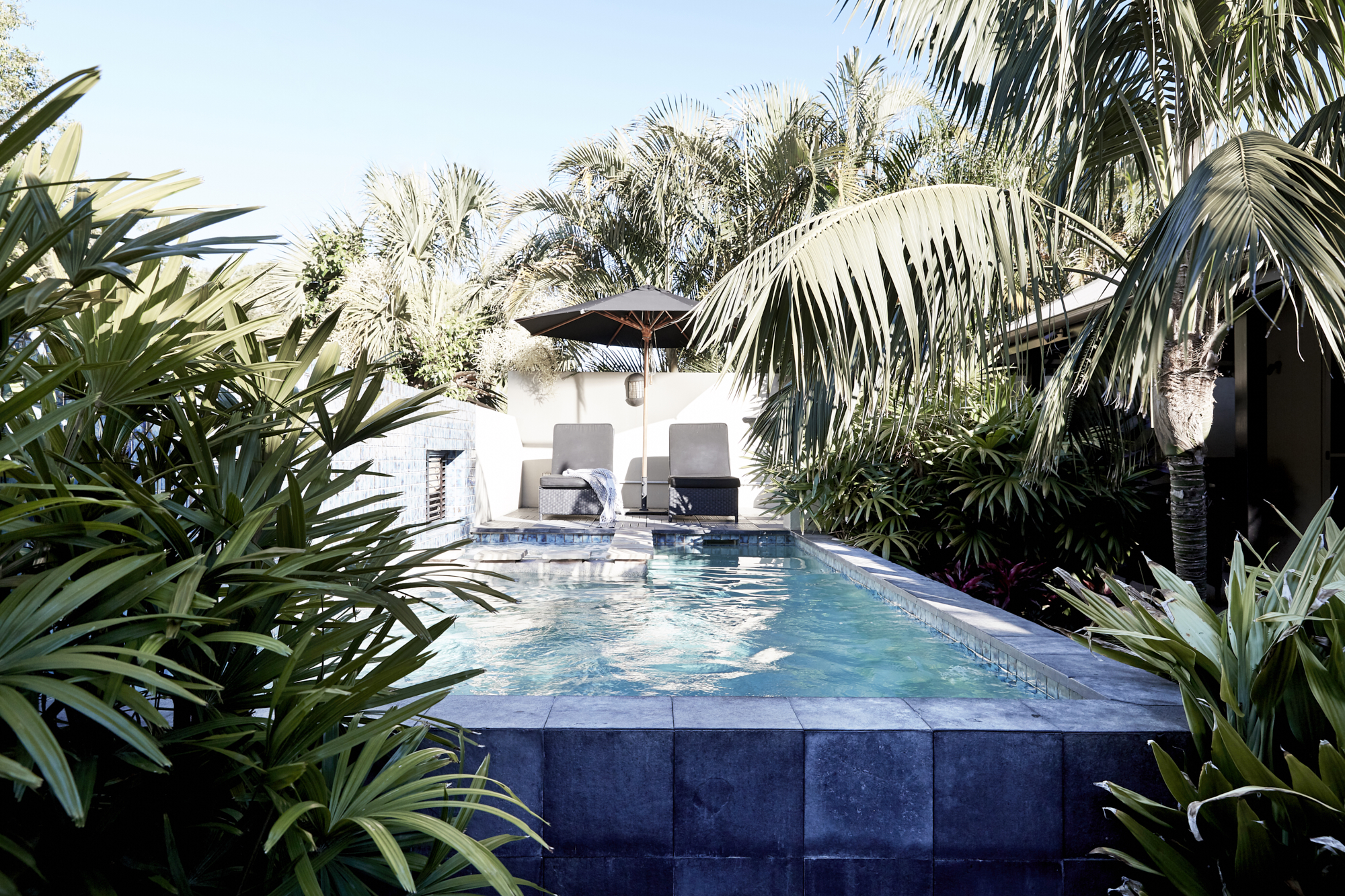 Location: Byron Bay
Accommodation type: Luxury Villas
Surrounded by coastal rainforest, this luxurious retreat offers anything you could possibly desire. If you want to spend an unforgettable weekend with your partner in a private oasis, The Villas of Byron are the place to be. The first thing that you'll notice is that the exclusive compounds are arranged with the utmost attention to detail.
Whether you choose interior or exterior accommodation, the hosts will make sure you are comfortable. All the villas have lavish ensuite bathrooms, textured furnishings, and oversized bedrooms. Doesn't that sound perfect for a romantic getaway? And that's not all, you'll also get to enjoy an outdoor rain shower, mineral pools, a heated spa, a waterfall, candle-lit dinners, romantic breakfasts, and picnic hampers. Whether you want to relax and recharge after a tough week, or to offer your partner a special experience, you'll find everything you need at The Villas.
Location: Berry
Accommodation Type: Luxury Suites
There's something about Mt Hay Luxury Retreat that needs to be mentioned right off the bat – it is n adult-only retreat. This is a great feature, perfect for couples who are on the lookout for a private and peaceful romantic getaway. Luxurious and super exclusive, Mt Hay Retreat is located on a 360-acre property. The suites have breathtaking views of the Broughton Head. The beautiful pastures, gardens and native bushland will make you forget all about city life.
Accommodation-wise, at Mt Hay you'll stay in a luxury suite equipped with a kitchenette, a king-size bed, a spacious living area. All suites have a modern design and generous private decks and individual private gardens. And did we mention the 33-metre indoor heating pool and spa? Or the "cloud swing"? You will surely make some great memories here!
Location: Cambewarra Mountain
Accommodation Type: Rustic Cottages
With so many luxurious places to choose from, we thought we'd show you something a bit different. Red Dog Retreat is not your usual romantic getaway, but a little piece of paradise. If you'd rather spend your romantic weekend wearing hiking boots and comfortable clothes and you are not into spas and infinity pools, you need to check this place out!
Nestles in the ancient rainforest of Cambewarra Mountain, Red Dog Retreat is a secluded hideaway where you can forget about the stresses of everyday life. With only two rustic cottages, you can rest assured that you'll have plenty of privacy. Whether you're planning a romantic getaway or a fun weekend with your kids, nature is always the best option. And the good news is you can also bring your dog!
Location: Hunter Valley
Accommodation Type: Private Boathouses
If you want to spend an amazing weekend eating delicious food and drinking the best wines in the country, you need to book a stay at The Boathouse of Leaves and Fishes. Situated in Lovedale, Hunter Valley, the Leaves and Fishes resort is just 1.5 hours away from Sydney. In Lovedale, you can visit many family-run boutique wineries and take part in fun activities such as cooking classes, cheese tastings, wine tours, and hot air ballooning, so we promise that you won't get bored.
Accommodation-wise, you'll be pleasantly surprised by the relaxed vibe of the four stylish and luxurious boathouses. Designed for couples who want to reconnect and enjoy a romantic weekend together, the boathouses have private decks overlooking the pond, double showers, opulent furnishings, luxurious baths, and large beds. It's safe to say that this location is perfect if you want to immerse yourself in country life without sacrificing your comfort.